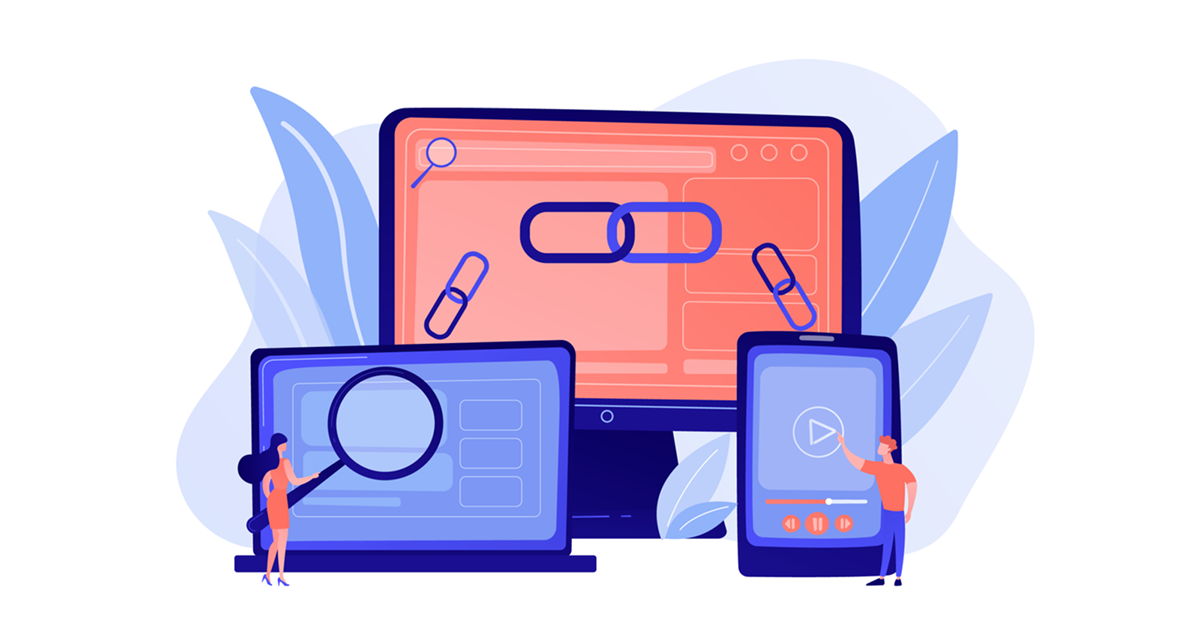 Link building can be one of the most challenging areas of SEO to master. Some people prefer to rely on the quality of their content, whilst others every ounce of their energy into building quality links. It's got to the point where it's becoming almost impossible to ignore link building when thinking about effective SEO.
What is Link Building?
Put simply, link building is getting other company websites to link back to yours. It's done by both big and small companies so that they can get a piece of market action they would not have access to normally.
How Do You Link Build?
The process of link building is perhaps the most important part. Link building is relational as it occurs between people. The key is to build a relationship with other relevant site owners that want to and will link to your content because it enhances theirs.
It may seem arbitrary when looking at the bare bones of link building. But more and more SEO companies are selling their link-building abilities as the one thing that sets them out from the crowd; so competition is fierce.
Here you will find out precisely why it's becoming so important as we take a look at the top 20 benefits of link building for SEO.
1. Better Credibility And Reputation
Links give your website credibility as they serve as third-party pointers of your domains authoritative power. Google strives to provide searchers with the most relevant results. Part of its system of determining the relevancy of a site is 'authority'. The greater the number of quality links directing users to your site, the more your credibility increases. Lots of quality backlinks mean that lots of publishers endorse your content.
The quality of these backlinks is important; five good links are worth more than 50 bad ones. So if your backlink is from a leading expert, then your domain is seen in the same light, both for search engines and users.
Think about the number of domains you link back from too. Try to aim for 10 links from 10 different sites rather than 10 links from one site.
2. Google Uses Links For Ranking
Link building accounts for over half of Googles' ranking considerations. So as you can see, links are pretty important to them. They are in fact so important to Google that it is almost impossible for them to rank your site if it has no links to it – no matter how good your content is.
Think about your competitor who ranks higher than you in a search for your industry keywords; their higher ranking means they have more backlinks than you. To rank higher, you'll need to create more backlinks than them.
Link building is one of the quickest ways to climb search rankings. Couple that with other SEO practices like building authority and creating unique content and your domain will stand out from the crowd – and the rankings.
3. Higher Site Metrics And SEO Scores
If you're already familiar with SEO scores and digital marketing, then you'll be familiar with all the related jargon; Domain Authority (DA), Domain Rating (DR), Page Rank (PR), Alexa Rank and so on. These all define how your domain ranks on search engines and, as an extension, how high your traffic is. Building backlinks helps to improve these website metrics.
Concentrating on quality link building means that because you're improving these all-important metrics, your website will also benefit health-wise. This, in turn, will aid with your visibility and exposure.
If there's one thing everyone wants for their website, it's exposure. It means higher traffic, more significant revenue and an all-round better performing site and business.
4. Lower Bounce Rates
'Bounce Rates', as defined by Google, are the number of single-page sessions. In layman's terms, it means the number of people who visited a single page of your site and then left without exploring the rest of your content.
So, when we're thinking about link building, we don't want to leave it as just inbound links. Consider internal links too – encourage users to explore your domain with ease. The mixture of the two types of links makes the backlinking look much more organic and more comfortable for users to digest.
Internal links make it simpler for Google to operate your site, but it also means that site visitors find it easier to navigate your content. Concentrating on making it easier for users to navigate your site means that they find the content that they want. This, in turn, keeps them on the site longer and naturally reduces your bounce rate.
5. Stand Out As An Authority Voice
We've touched on Google using your site's authority through third-party sites as a way to improve ranking, but the benefits of link building for strengthening authority don't stop there.
Every brand wants to stand at the top of the pile in each of their respective industries. A sustained and quality link building strategy can help your brand to emerge as an expert voice in your niche. Link building from other authorities in your niches helps to define you in the same light.
Becoming an authority voice means that consumer trust builds and that leads to all the good stuff; more significant sales, higher revenue and better branding for your company. You want your company to be at the forefront of conversations about your industry – link building and becoming an authority is the way to do that.
6. Improve Networking And Relationships In Your Niche
If you do as Google recommends and only create backlinks within your industry niche then you'll not only be creating relevant links – you'll also become more closely connected with authority players in your sector.
The closer connected you are to others in your niche, the more relevant you are to Google. Not only will this help your search engine ranking, but it could open up new avenues for collaborations. You should never underestimate the power of collaborating with your industry. It's beneficial for both parties – plus, it's always nice to be seen as friendly and co-operative within your niche.
Don't forget, relevant links and a better relationship within your niche will translate down to users too. It makes for more engaging content and builds a community that they want to be a part of – and one that they'll want to shout about too.
7. Improve Brand Awareness
Brand awareness is measured by how well customers are able to recall or recognise a brand in different circumstances.
Direct links from external pages to your website (particularly those with high traffic) improves brand visibility, as a wider audience will be directed to your website.
Moreover, link building portrays your brand to be a citable resource. In other words, a link to your page can be seen as a vote of confidence. Links encourage audiences to trust your brand, especially if it is coming from an already trusted source, like a national newspaper or respected company, for example.
In turn, being linked by other pages improves brand impression, which can lead to greater brand awareness.
8. Revenue Opportunities And More Sales
There will be a greater opportunity to generate revenue if your site receives high traffic and has better metrics. These revenue opportunities can be secured through link building. If your site has more traffic, it will appear higher in search results, encouraging more potential customers to you.
In turn, this will increase the sales of your products and services. Monitoring and updating the links to your website also allows for new methods of revenue to be generated, as you can optimise your website to fit the consumer trends and patterns.
9. Wider Search Engine Coverage
Link building is beneficial because it puts you ahead of the competition in search engine results. Search engines check the quantity of high-quality inbound links to a webpage when they sort through them. Therefore, your page will rank better the more high-quality links it establishes.
A high-quality link is one that originates from an authoritative site that is relevant in content to your own, but not totally the same. It will recommend your website via a referral link or backlink, and will not link to any of your competitors on the same page. In short, quality links are ones that are trusted, diverse and current.
10. Improvement In Search Rankings
A benefit of link building is that it improves your site's SEO. Ranking higher in search engine results will attract more traffic to your site. This is because search engines, like Google, use a page ranking system, such as PageRank, which crawls through each site for internal and external links. One way a search engine determines how high up a page sits in the results is by the number of links pointing to it. The higher your webpage is in search engine results, the more likely it will receive web traffic because no one wants to scroll through pages of results.
If you didn't know already, one of Google's founders, Larry Page, invented PageRank, and the system led to Google dominating the search engine market in the late 1990s. If Google thinks high-quality links are important, they probably are.
11. Higher Visibility And Exposure
Just as link building betters your search rankings, it can also encourage wider audiences to your page. For instance, link building can help raise awareness of your site in different geographical locations. Let's say your business expands internationally, links from trusted companies based in those target locations would increase your exposure and credibility.
Indeed, link building supports credible lead generation because it raises awareness and can reach out to new audiences, which is a useful tool if you want to increase your consumer base.
Another reason link building increases the visibility of your webpage is that it can diversify your audience. A link from a credible website that may be dissimilar to yours is not a bad thing. People are complex and have a broad range of interests, just because the content of a website is unlike yours does not mean a backlink won't persuade its audience. In fact, they could be ready for a link-worthy escape route.
12. Better Information For Readers
Readers can follow backlinks to gain more information or a different point of view. If they are directed to your website, and your content develops or adds something of interest to the previous information, it improves their experience.
Plus, having a number of backlinks pointing to your webpage makes the information on your site appear reliable and can increase brand trust. Incomplete information and irrelevant links will do the opposite, driving traffic away from your site.
In the long run, consumers will come to rely on your content for information and keep coming back for more if the link directed them to quality content in the first place.
13. Long-Lasting Benefits
The long-term benefits of link building include extra traffic and more revenue if the links are continually updated. A tip for updating your links is to stay in touch with current consumer trends, as to understand the changing market better. By doing this, you can reach out to websites that receive high web traffic or have loyal and returning customers. The trick is to convert their traffic into becoming your customers.
Therefore, more traffic to your site will lead to your products or services becoming more visible, and consumers will be more compelled to buy. In the long run, if your links are updated according to relevancy, revenue will increase.
14. Leading Competition
Quality links to your website will place you head and shoulders above the rest. Building these links will help you thrive in the online environment as it associates your brand with relevant and authoritative pages. What's more, it helps your website stand out and suggests that out of your competitors, your website is the most link-worthy.
Imagine you
15. Higher Quality Content For Readers
The great thing about building links is it improves the quality of content for readers. Linked content is designed to develop informative and educational ideas. Authoritative sites that offer quality content links are more likely to rank higher in SEO than those that avoid direct link building. This means getting a trusted website to link to yours will only increase the volume of traffic to your site.
If you think about it, websites that link to various pages to develop information or even provide a counter-argument seem more reliable than a linkless webpage.
16. Helps You Get Indexed In Search Results
Link building encourages search engines to take specific pages, topics or words from your website and index them under a search word or phrase. This means that when consumers search for something specific, a relevant page or section from your website will appear in the search results. Strong link building to different parts of your website will increase your website's index potential.
Additionally, you can encourage visitors to pages or parts of your site that would normally receive less traffic by building specific links and therefore being indexed in a multitude of ways by search engines.
17. Higher Probability Of Converting New Audiences
The value of a good link isn't all about improving SEO; it's about converting key new audiences to visit your website, too. For example, avid online readers are likely to take a referral link seriously if their favourite blogger recommends it. This is where link building can attract audiences that may not otherwise stumble upon your website.
In today's market, plenty of companies have capitalised on social media influencers and bloggers to promote their products or services. Linking between websites can be mutually beneficial in the same way a relationship between a brand and an influencer can. It can generate revenue and increase brand trust for both parties.
When it comes to building links, audiences will appreciate the host providing new information while being introduced to a new website simultaneously. A quality relationship between linking websites is the linchpin in converting new audiences.
18. Continual Source Of Referral Traffic
Referral traffic is the visitors on your site that have come from other sites via a referral link, rather than from a search engine.
Receiving referral traffic helps websites like yours sell their products and services because the other site could have the same target group of consumers, who already trust their recommendations.
The benefit of building referral links is that you can optimise your content to appeal to the consumers of those sites so that any referral links will seem relevant and useful. Referral traffic is a great way to convert new audiences into customers.
An excellent source of referral traffic is from bloggers, especially consistent and popular bloggers with a loyal readership. As blogs are continually updated, any referral links can also be updated in the form of a new post.
19. Increased Web Traffic
Put simply – web traffic is the number of visitors to your website. It is measured by the data sent and received by visitors as they interact with your site, including if they click on a referral link.
This seems like a given, but the greater your link building, the more visitors to your site. Increased site traffic is not only an indicator of solid link building but also of quality content. A website that has high traffic is a website with authority and relevance.
20. Increased Web Traffic Can Become Loyal Customers
It's one thing to receive plenty of visitors to your site, but keeping them there is the next mission. Quality link building works wonders for SEO, and it can attract both niche and diverse audiences, depending on how you use it.
But one way to convert traffic into invested consumers is to make sure your content excels their expectations. If they followed a link to your website, it's because they are expecting to find information that feeds their hunger for knowledge or quenches their consumer thirst.
So, it is important to consider where your links are and what kinds of audiences are likely to follow them. It's a good idea to accommodate their interests while promoting your product or service.
A great way to make your content worthy of customer loyalty is to see what your competitors are doing well and try to either one-up their style or come up with a competing idea. Often, competing websites in the same market adapt to each other to keep their consumers revisiting. An example of this recently was when social media sites updated their apps to include a short-form video sharing feature to replicate the experience of the viral app, TikTok.
To conclude, effective link building requires you to think outside the box, but it's worth the effort. When deciding which websites you would ideally want to backlink to your page, you should consider a few things:
The amount of traffic their website receives – the greater volume, the better.
Who their target audiences are, and if they align with (or expand) your own?
Does your content match (or excel) the expectations of referral traffic?
Is their website authoritative, trusted, and does it attract loyal customers?
Can you convert their traffic into loyal customers of your own website?
It seems like a lot of hard work, which is why SEO companies are correct in thinking they are selling a valuable service by offering competitive link building tools.
It's established that link building ranks your website higher in search engine results if other credible websites are pointing to you. This is shown in search engines results like Google's, which ranks web pages by the number of quality links that are directed to them. Therefore, more quality links lead to better SEO.
Aside from a higher volume of traffic, quality referral links and backlinks are important in improving the credibility and authority of your website, as it demonstrates it to be worthy of citation. This encourages brand awareness and trust, eventually transforming web traffic into loyal customers.