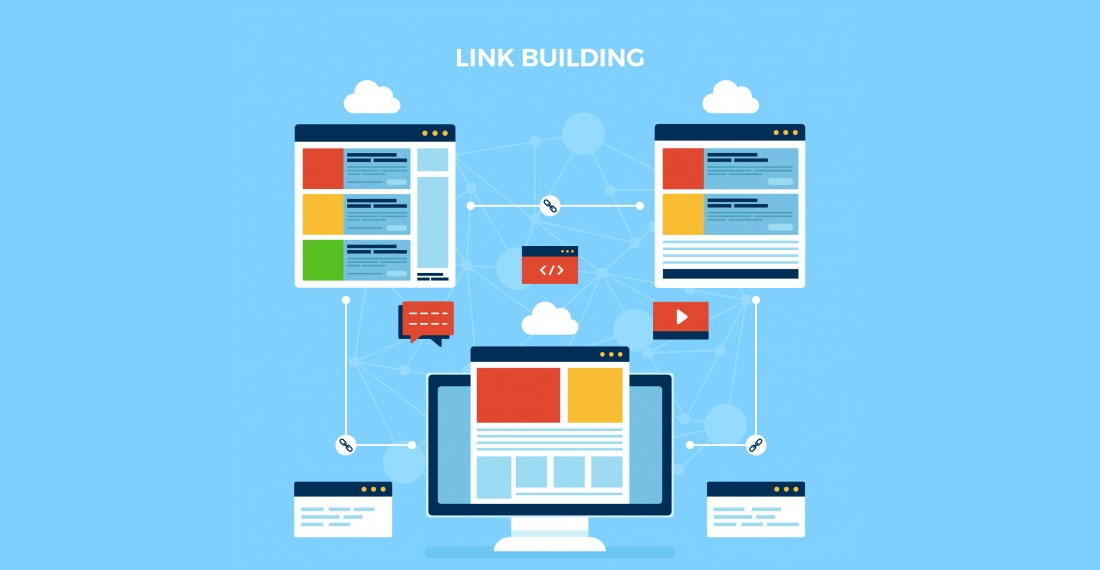 What is a link building service?
Simply put, link building means populating other websites with links back to yours. Link building services invest their time and money in placing these backlinks, thus building your business's visibility on search engines, and the internet as a whole.
How does link building help to build your business?
Link building is one of the main facets of SEO (Search Engine Optimization). The more backlinks to your website exist, and the higher the quality and relevancy of the websites that contain those links, the more likely your business is to move up on the ranking of search results. Google uses several metrics to order, or rank, the results when you search for something. The most significant factor they use in determining the ranking? Backlinks.
Helpful Article: Top Digital Marketing Agencies in the UK
How to choose the right link building service?
There are many things to consider when looking for a link building company. If you aren't a web expert yourself, it's vital to work with a company that communicates clearly and comprehensively about the services for which you're paying. Money-back guarantees are crucial as well. If you don't see results, you should be able to get your money back, like any other service. Finally, control and customisation are essential. You should be able to work directly with your link building company to decide where and how your backlinks are placed.
With that said, there are still a considerable number of link building agencies to sort through. So we've brought you a list of 2023's top 20! Let's get into it!
FATJOE offers a variety of services designed to enhance your business' web impact through both link building and content creation. Their link building services include blogger outreach, niche edits, local business citations, and content syndication.
The agency also offers multilingual outreach, which is excellent for building an international presence. FATJOE is a white label company, which means it produces branded content specific to your business, without its name or logo appearing on any of it. No one reading the blog or website, and clicking on the embedded backlink to your site, will know FATJOE designed the content.
FATJOE provides services for over 5000 agencies, so it's safe to say it has proven itself in the field. You are never required to sign a contract, so you have the flexibility to cut ties whenever you like. Another perk of this company is you will have access to an easy-to-use dashboard to control all its services and to place new orders.
OutreachMama, another white hat marketing service, prides itself on the relationships it has built over the years with significant players in the publishing world. This unique angle implies that the company takes pride in not just placing backlinks randomly, or in mass quantities with no reason, but in getting you the most bang for your buck.
When your links are placed with reputable and high-ranking publishers, you have a higher chance of seeing positive results. OutreachMama's "Rolodex," as it's referred to on the company website, is difficult to get into. That means the bloggers the agency reaches out to when it comes to placing backlinks are established, popular, and high-ranking.
OutreachMama offers you the ability to approve the sites your links are placed on before you pay, and the agency guarantees the placements are relevant to your business's specific industry. There are several different price packages and "tiers" to choose from, and like FATJOE, clients work through a user-friendly dashboard.
Higher Visibility's website touts the company as the "Most Awarded SEO Agency of 2023." It was named "Search Engine Agency of the Year" by Search Engine Land. With that track record, hopefully, It'll continue the streak in 2023. The company boasts an extensive repertoire of companies with whom it's worked, from small businesses to fortune 500s. A large part of Higher Visibility's ethos is working "with" clients, rather than "for" them.
Higher Visibility lists the people who work for/founded the company right on the site, with bios and images. When so much of SEO and online business marketing can feel like you're working with robots, it's nice to see an emphasis on the human side. There are actual people behind the screens! In that same vein, the company provides numerous client testimonials on its website for you to read before reaching out.
Another highlight of Higher Visibility is its emphasis on detailed reporting. It provides clients with monthly reports detailing the effectiveness of their campaigns.
Digital Current offers a free backlink audit when you visit its website. That means you can view a "snapshot of your current backlink profile" to help you determine what you need to prioritise moving forward with a link building service.
Digital Current has been around for a long time, 17 years to be exact. It is an international agency, working in 15 countries and with 12 languages, which may or may not be beneficial to your business. If you expect to do international commerce, it definitely is.
Working in 90-day sprints, this link building agency continually evaluates the progress and results of its campaigns, making sure to customise and adjust goals as needed. Its team monitors and guarantees all the links they place, which means if one should go down, they will replace it at no additional cost. Digital Current has clients that have been with the company for over 11 years—which they attribute to the fact that they consider their company part of your team, rather than a vendor you've hired.
Based in Greensboro, NC, Link Fish Media was founded in 2007. However, its founders, Julie Joyce and Jay Young have industry experience since 2003. They are equipped with skills in search engine marketing, site development, technical writing, and systems administration.
Each link they gather from one of their hundreds of clients is reviewed by a human eye. At Link Fish Media, they take careful precautions to accumulate links that are as safe as possible for the best possible outcome. Every link they acquire is built by a trained link builder, with a minimum of one year's training required.
Link Fish Media understands how vital efficient link building is to SEO success. They take great detail to support the goals of their clients with a custom campaign. The link builders are 100% transparent and vow to keep clients well informed and integral to the link building process.
If you see "DA" in SEO optimisation, this is short for "domain authority." A site's domain authority is a search engine's ranking score which predicts how likely a site is to rank on search engine result pages (SERPs). DA scores range between one to 100; the higher the score, the greater the ability a site has to rank. LinkGraph specifically specialises in high DA scores, with "highest-powered links in the business," between 50-91+.
LinkGraph veers away from the guest blogging approach of many other SEO companies. Instead, they have built numerous direct relationships publishers, so their content placement appears seamless and organic by not using affiliated links or sponsored tags. Their specialised team of industry insiders and creative content boast unique talents and quality writing.
Where some SEO companies include link building as a subset of their SEO inclusion package, LinkGraph specialises in this service. Like a resume, LinkGraph promises outstanding and trusted "references" for your site that can add significant value to your organic searches.
Like other SEO agencies, Heroic Search focuses on manual outreach to relevant markets and relationship building. Their team has forged relationships with editors, bloggers, journalists, and competing SEO agencies.
Some SEO companies might struggle to find the correct niche market for specific clients. Still, Heroic Search uses its substantial resources that result in high-quality links for these difficult assignments. When ordering from Heroic Search, you should know exactly how many links you want to be built because this is a necessity for their online form. Unlike other SEO agencies, their price packages are based on how competitive your niche is.
Sports and arts are considered low-competition niches (they begin around USD 300/link), while legal, real estate and health-related topics are considered high-competition niches (USD 450/link). If your site is viewed outside of the type of niches described in their packages, you might pay substantially higher rates for links. However, they have earned links with affiliates like Louisiana State University, Coca-Cola, Entrepreneur Magazine and Nasdaq.
Click Intelligence brings content creators, talented content marketers and PR specialists to the table with their services. They aim to provide their customers with exceptional coverage, high-quality backlinks, and organic referrals to their client's websites. Their ultimate goal with SERPs (search engine result pages) is to earn their client's place in Google's search engine.
By developing a content marketing strategy specific to your needs, they can create a compelling roadmap that will lead users back to your site. Their main tactic of building links is guest blogging. Click Intelligence has a wide array of sites they've built relationships with, ensuring the best (and most relevant) home for your site's link.
Click Intelligence uses influencer outreach (wider audience), social media/emailing/telephone outreach (establishing connections), seed infographics (to influencers) and resource link building (share informative content) in their link building services. They have cultivated talent in providing a more understanding and forward-thinking mindset which gears your site toward the future.
Forward Linking promises a link building service that can lead to a feature on high profile and authoritative websites. When working with an SEO agency, you might come across the term "authoritative website."
An authority is considered the "final" say on a matter in any market. For sports fans, ESPN is regarded as the authority on sports matters because it's a highly respected publication. Google itself is an authority on every search matter because of its highly optimised search engine. These are the types of avenues you want your website associated with as this can lead to an improved reputation and organic traffic.
As its name connotes, Forward Linking is a forward-thinking company that pads your links from Google's ever-changing algorithm. After determining the quality of your website's content, keywords and the health of your current backlink profile, Forward Linking begins by charting your website's marketing campaign. When evaluating your backlinks, Forward Linking also can take a look at your competitors to determine how your metrics compare.
Page One Power specialises in resource link building (building backlinks from pages with curated lists of links to external websites) and content link building (guest posting). They offer a custom campaign option that is fully customised to your needs as the client.
They offer a relevance-first approach to link building that work tenaciously to secure real links relevant to your website, brand, and keywords. "White label" link building is essentially outsourcing link building efforts—it allows companies to reach extraordinary deadlines in a small amount of time. Page One Power is a white label partner, available to agencies in need of their expertise and talented staff.
With Page One Power's result-focused link building techniques, you will see results quickly. Page One Power works with mom-and-pop shops up to global companies, securing a stable audience regardless of algorithm updates.
Gloc Media sets itself apart from its competitors by having their team of link builders analyse your business model themselves and determine the best approach for your site.
Backlink building takes patience, time and effort, but Gloc Media cuts that time in half by offering guest blogging and link building campaigns on a third party, niche blogs. Their service will produce professional content, containing backlinks to their client's website, to place on high-quality and relevant blogs. Gloc Media claims to offer real blogger outreach and guest blogging services.
Guest blogging is considered the most white-hat approach to SEO because it improves your site rankings while maintaining the integrity and authenticity of your site. This extra service might be unnecessary as an advanced package costs approximately £495/month. An advanced package includes recommendations to improve a site's content, navigation paths and the structure of their site. By incorporating backlinks on their extensive, varied, established network of blogs and websites, Gloc Media provides a substantial and commendable service.
The HOTH, an acronym for Hittem Over the Head, began in 2010 as a contender against poor SEO services offering "sketchy" services. They have since gathered a handful of testimonials supporting their SEO improvement methods. Like other SEO agencies, they offer blog content creation and website content writing.
The HOTH is one of the more affordable options for link building, and they offer a variety of selections: HOTH GuestPost, HOTH GuestPost PRO, HOTH Foundations, HOTH Blitz, and HOTH Boost. The most expensive package, the HOTH GuestPost PRO, ranges between $200USD and $500USD for more organic traffic and resources.
HOTH Boost, the most cost-effective options, offers in-content links on high-DA resources at $49USD/50 posts and $149USD/250 posts. Unlike other services, HOTH offers blogger outreach without an exorbitantly high additional price. They have garnered a wide array of publishers who accept guest posts, and they are open to creating custom content. With a wide range of selections, you'll be able to find your perfect link building package with The HOTH.
The Upper Ranks describe themselves as a 'boutique' link building company who
provide services for some of the biggest companies in the world. Their name refers to the fact that they'll help companies reach the 'upper ranks' of the digital world. They list custom link building, enterprise link building and agency partnerships as the services they offer.
The Upper Ranks set themselves apart from the competition by providing a more customised approach to building links. So they'll hand tailor their service to your exact needs, no matter the size of the company or project. They also make sure that you're getting links that pay off rather than an easy win. Based out of New Jersey, The Upper Ranks have been around since 2011, which means that they've got the experience as well as the chops when it comes to link building services.
With The Upper Ranks team of prospectors, researches, writers and outreach specialists, you'll get personal service with communication encouraged. So you can be sure that they'll provide the service you need.
RhinoRank offers a White Label solution for agencies and businesses who want to level up their SEO affordably. With them, you'll get control over your link building campaigns. This means that you'll get to choose the links you promote, the anchor text and exactly how aggressive you want to be.
They provide curated link and guest post services. RhinoRanks custom-curated links service promises to feel 100% natural and tailored to your exact requirements. The service starts at $35, and there's a handy app to track your spending and reach.
RhinoRanks guest post service really shines. With prices starting from $95, you'll get 100% genuine posts from manual outreach with real bloggers. They take the time to really study your website and niche to get posts that speak to your audience. Their curated service is worth the price with link building that feels natural.
The link building company Stellar SEO sets out a 3 step strategy to get the best from your links. Their multi-phased approach means that their team will learn about your business goals, audit and improve existing links and build a customised plan from that data. Stellar SEO also offers White Label link building, starting at $2500 per month, per client site; but they do offer discounts for high volume orders.
As well as link building, they also offer blogger outreach, where their White Label service is also available. For blogger outreach, Stellar SEO price their offering based on the number of links and DA strength of those links. Their lowest DA link service starts at $167 for one link and goes right up to $5860 for 10 of their highest strength DA links.
There's a little something for everyone with the wide range they offer, no matter the size of the project. There's also a pretty brilliant 100% satisfaction guarantee, and if you're not satisfied, you'll get a full refund or replacement.
Sure Oak are a full-service SEO marketing agency with plenty of awards to back their expert services; they're ranked one of the best SEO firms in New York City for 2023. Mercedes, GAP and The American Red Cross are just a few of the companies who trust them to provide the best of the best.
Sure Oak offer an absolute abundance of services. They're pretty much your one-stop-shop for link building and SEO optimisation. From basic link building to advanced technical SEO and auditing, there is something for everyone. You can even get a free SEO strategy session to start you off if you're not sure what your business needs.
With Sure Oak, you'll get proven strategies to get the growth you're looking for, all wrapped up into a personal, results-driven package. Check out their customer testimonials. They've helped lots of companies gain Top 3 positions on ranking, and they all say the company was a pleasure to work with.
Siege Media promises end-to-end link building services that drive revenue and brand recognition. They've got some big brands behind them too. Providing services for Trip Advisor and Air BnB, and earning links from Time, Refinery 29 and plenty of other big names.
With their link building services, you'll get their talented team who will build content that's on-brand and looks excellent. As well as being backed by some massive companies, they're also on first name terms with thousands of journalists and editors. So whilst they can't promise placement on big sites, you can be assured that they're trying their hardest.
They offer content strategy, creation, promotion and SEO consulting.  They even provide an opportunity to learn from the experts in their content marketing course. Head onto their site and check out their playbook; it offers an in-depth look at their services, and a peek at some successful campaigns.
Screaming Frogs' link building is done by creative content marketers and online PR experts; so it's all about getting coverage and the right referrals for them. They're a UK based team who've been around since 2010, and they've got awards under their belt too. Their team will use their expertise to identify link building objectives and look at key audiences and influencers in your industry. They aim to develop a strategy that'll attract people through content, PR and outreach.
Screaming Frogs' link building service really is all-encompassing, so you get a lot of bang for your buck. Alongside the link building and content writing, you also get other features like interactive content and digital PR. This is what sets them apart; the service includes so much more than just link building.
They work for any size company, with any size project, so they won't shy away from your project. Screaming Frog are friendly and down to earth at their centre; this definitely makes them come across as likeable and it'll be easy to build a rapport with them.
The chosen link building metric for most link building services if DA, domain authority, from Moz.com. Linkology have their own link analysis metric called M-flux that you can choose to use alongside Moz DA when you use their services. Their M-Fluz metric brings together other link analysis metrics tot create a superior scoring approach. Linkology assures that their M-Flux metric will offer you an easier and faster way to manage customised link building. All whilst providing better linking opportunities and keeping your spending under control.
Another significant aspect of Linkology is their 100% money-back guarantee if they don't meet your expectations. It's nice to see this from a company; it means they're confident in their skills, and they're fair. They also talk about making the links future proof, so you won't have to worry about updates creating panic down the line.
This UK based company offer a lot of services and have one of the most in-depth websites out there.
From the Future offer solutions and strategies for growth-minded companies. As their name suggests, it's all about the most advanced options. They say they're sent from the future to save us all from ineffective strategies. They are not your average agency.
Though they've not been around for long, they have already acquired an impressive phonebook of big accounts. From the Future did this because their team has some of the foremost experts in the industry; many speak at industry conferences. They also offer tools to give you the edge. Take a look at LinkBuildr, their free WordPress Plugin; it'll automatically send recently published content to influencers for promotion. You can also have a peek at their blog whilst you're there, it has lots' of exciting advice and resources.
From the Future really do seem to be leading the way with innovative perspectives and ideas for link building. Bonus, they're also pretty friendly!